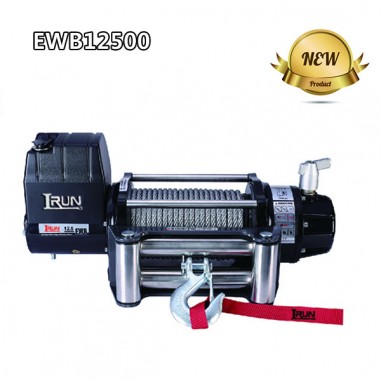 EWB SERIES WINCH
EWB series winch are reliable performance electric winches with innovative brake. High-efficient transmission delivers high pull-in speed and low noise. All-stainless out-installed components ensure these winches work more durable.
12500 lbs Offroad Electric Winch Item No. EWB12500
Features:
1.)All-new patented waterproof design meets IP67 standards.
2.)Innovative brake inside the gearbox, offers excellent safe, reliable performance.
3.)Stainless steel rotary clutch for smooth and convenient operations.
4.)Stainless steel out-installed screws.
5.)Exclusive brake design inside gearbox prevents rope damage with the drum over-hot after long-time operation.
6.)Copper connection sealed control pack with elegant appearance.
7.)High –efficient transmission delivers 9m/min pull-in speed and power saving.
8.)Over-current protection available for safe winching.
9.)Compression-resisted rubber hand remote control.
EWB 12500


Specification:
Rated line pull
12500 lbs (5670 kg)
Motor: Series wound
12V:Input: 5.9kW / 7.9hp
Output: 2.4kW / 3.2hp
24V:Input: 4.8kW / 6.4hp
Output: 3.1kW /4.2hp
Gear reduction ratio
228:1
Cable (Dia.× L)
Ø13/32″×83.7 ' (Ø10.2mm×25.5m)
Drum size (Dia.× L)
Ø2.48 "×8.5 " (Ø63mm×217 mm)
Mounting bolt pattern
10 "×4.5 " (254mm×114.3 mm) 4-M10

Pull Speed Amperes Volts First layer
Line Pull And Rope Capacity In Layer
Line Pull




Lbs. (kg)

Line Speed




Ft/min (m/min)

Current




A

Layer




of cable

Rated line pull




Lbs. (kg)

Total Rope On Drum




ft (m)

12V DC
24V DC
12V DC
24V DC
1
12500(5670)
16.1(4.9)
0
32.8 (10.0)
34.8 (10.6)
75
60
2
9776(4434)
36.4(11.1)
3000(1361)
15.7 (4.8)
17.4 (5.3)
190
85
3
8026(3641)
60.0(18.3)
9000(4082)
8.2 (2.5)
10.2 (3.1)
360
150
4
6808(3088)
83.7(25.5)
12500(5670)
5.2 (1.6)
6.9 (1.9)
490
200

| | | |
| --- | --- | --- |
| ITEM | EWB 12500U | EWB 12500F |
| Overall dimensions | 23.7″×6.3″×10.0″ | 23.7″×6.3″×9.8″ |
| (L×W×H) | 601mm×160mm×254mm | 601mm×160mm×248mm |
| Net weight (Ibs/kg) | 94.6lbs / 42.9kg | 97.2lbs / 44.1kg |