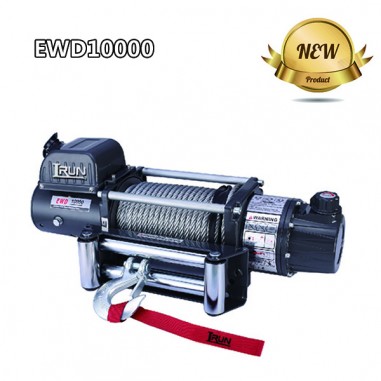 Two Speed 4×4 Electric Winch 10000 Lbs With Patent Clutch Item No. EWD10000
EWD SERIES Winch series are perfect two-speed electric winches with Max. Pulling force of 5,500 lbs at high speed. Speed shift and clutch control could be engaged simultaneously to deliver user more convenience.
Features:
Full steel reducer gear.
Patent three stage planetary gear reducer.
Two speed and clutch and speed shift structure.
Clutch and two speed gear actions auto engagement.
Automatic screw cone braking action.
Series wound motor.
Wireless remote control available.
Remote control through control box and switch.
DC 12v or DC 24v Power drive optional.
EWD 10000
Specification:
Rated line pull
10000 lbs (4536 kg)
Motor: Series wound
12V:Input: 4.3kW / 5.7hp
Output: 2.1kW / 2.8hp
24V:Input: 4.1kW / 5.5hp
Output: 2.8kW / 3.8hp
Gear reduction ratio
267:1 (Low speed); 86:1 (High speed)
Cable (Dia.× L)
Ø3/8 "×85 ' (Ø9.2mm×26m)
Drum size (Dia.× L)
Ø2.48 "×8.8 " (Ø63mm×223 mm)
Mounting bolt pattern
10 "×4.5 " (254mm×114.3 mm) 4-M10
Low Speed
High Speed
Line Pull Lbs.(kg)
Line Speed ft/min(m/min)
Current




A

Line Pull Lbs.(kg)
Line Speed ft/min(m/min)
Current




A

12DC
24DC
12DC
24DC
12DC
24DC
12DC
24DC
0
28.9(8.8)
19.7(9.2)
70
50
0
78.7(24.0)
82(25.0)
75
60
6000(2722)
8.6(2.7)
9.2(2.8)
230
100
3000(1391)
20.3(6.2)
22.3(6.8)
300
135
8000(3629)
7.9(2.0)
7.9(2.4)
280
130
4000(1814)
16.4(5.0)
19.0(5.8)
365
170
10000(4536)
4.9(1.5)
6.6(2.0)
360
170
4500(2041)
13.1(4.0)
17.1(5.2)
400
210
Line pull and rope capacity in layer
Layer of cable
Rated line pull Lbs. (kg)
Total rope on drum ft (m)
1
10000(4536)
17.4(5.3)
2
7969(3615)
39.4(12.0)
3
6624(3005)
65.0(19.8)
4
5667(2571)
85.3(26.0)
| | | | |
| --- | --- | --- | --- |
| ITEM | EWD 10000U | EWD 10000S | EWD 10000F |
| Overall dimensions | 24.4″×6.3″×10.0″ | 24.4″×6.3″×11.1″ | 24.4″×6.5″×9.9″ |
| (L×W×H) | 619mm×160mm×254mm | 619mm×160mm×283mm | 619mm×166mm×251mm |
| Net weight (Ibs/kg) | 86.0lbs / 39.0kg | 88.2lbs / 40kg | 92.6lbs / 42kg |