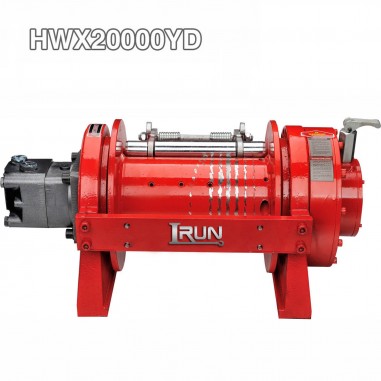 Our trailer / Industrial Winches is widely used in wreckers, trailers,
flat-plate haulage vehicles, engineering machineries, off-road
military vehicles and special vehicles.
20000 lbs Hydraulic Winch Item No. HWX20000YD (Manual Cltuch,Single Speed)
It's special design for industry use.
This winch has one speed at a 20,000lb pulling capacity with a manual clutch.
It`s equipped with Automatci screw multi-disc brake designed to
to hold the full-rated load, and high strength hardened two stage planetary gear reducer provides for relibality.
Besides Hook, Wire rop and SWR tensioner supplied.
Features:
1. Free steel reducer gear
2. Patent two stage planetary gear reducer
3. Patent clutch and speed shift structure
4. Automatic screw actions multi-disc brake
5. SWR tensioner supplied
6. air clutch or Air and manual mixed clutch, single speed optional
HWX20000YD
| | |
| --- | --- |
| SPECIFICATION | |
| Rated line pull | 20000 lbs (9072 kgs) |
| Motor: permanent magnet | 100ml/r |
| Oil Flow | 15~75L/min |
| Pressure | 17.5Mpa |
| Gear reduction ratio | 39:1 |
| Drum size (Dia.× L) | Ø5.4 "×10.2" (Ø138mm×260mm) |
| Mounting bolt pattern | 14.8 "×2.5 " ×7.6 " (375mm×64mm×192mm) 8-M14 |
Line pull lbs (kgs)

Pressure

Mpa(Psi)

Flow

G/min (L/min)

Line speed ft/min(m/min)

0

2.5(362.6)

4.0(15)

5.9(1.8)

4000(1814)

4.2(609.1)

7.9(30)

11.8(3.6)

8000(3629)

8.5(1232.8)

13.2(50)

19.7(6.0)

15000(6804)

14.0(2030.5)

15.9(60)

23.6(7.2)

20000(9072)

17.5(2538.1)

19.9(75)

29.5(9.0)
| | | | |
| --- | --- | --- | --- |
| ITEM | HWX20000YD | | |
| Overall dimensions | 22.2″×15.4″×14.0″ | | |
| (L×W×H) | 564mm×390mm ×356mm | | |
| Net weight (Ibs) | 238 | | |
| (kgs) | 108 | | |