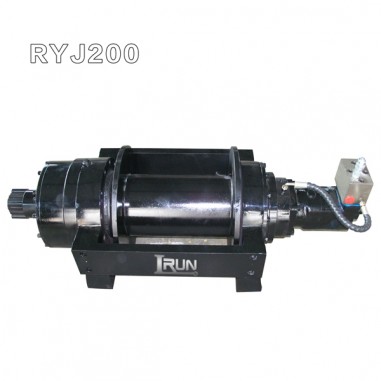 20 ton hydraulic towing winch for truck Item No. RYJ200
RYJ200 Hydarulic winch cosists of hydraulic motor,planetary gear, reducer, arrester,drum etc. with high efficiency motor, reliable brake,compact structure to easy to installation.
Great for tow truck ,wrecker and trailer application.
Specificaion:
1.Full-floated typed planetary gear reducer makes the operation more stable,the structure more reasonable.
2.Adopt multidisc-typed friction normally-closed arrester makes the brake torque larger,safer and more reliable.
3.The product is features by its small size, compact construction and high tranmission efficiency
4.Free wire relasing function.
5.Adopt high quality motor with long use life
6.The installation brakcet can be manufactures according to the customer's requirement
7.Accoding the requirement of customers to equip the balance valve and shuffle valve special for this winch
8.Manufacuture according to ISO 4301 & SAE J706